Mr. James H. Brocker and son, Eric of Harvest, AL
at Mr. Brocker's great grandfather, Private James Jacks grave.
Private Jacks died of pneumonia January 24, 1865.
"If there is one thing I can say about the Northern people in the city of Columbus these days, it is that they have most certainly taken good care of, given proper respect and remembered the final resting places of the 2260 Confederate men who died while incarcerated there. Even in the present day, each summer the people of the city hold a ceremony at Chase Cemetery for these "Americans" who fought, suffered and died for their beliefs".
Excerpt from A Story Carved in Stone
by James H. Brocker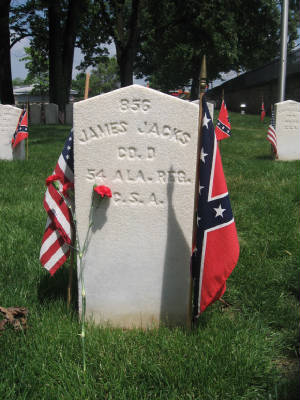 The newly reclaimed land, alignment and cleaning of Pvt. James Jacks grave.
Confederate Memorial Day May 31, 2010